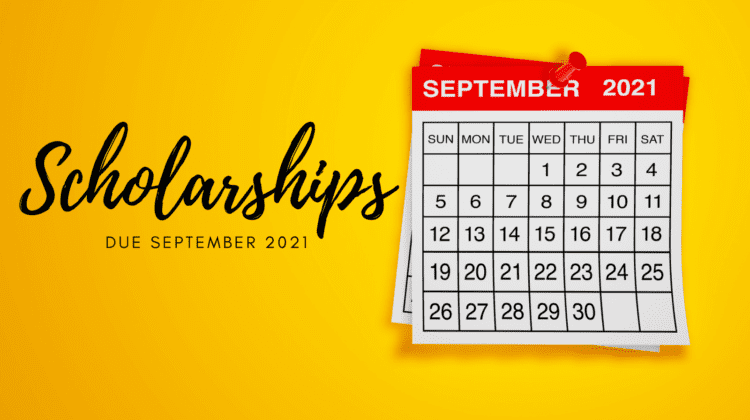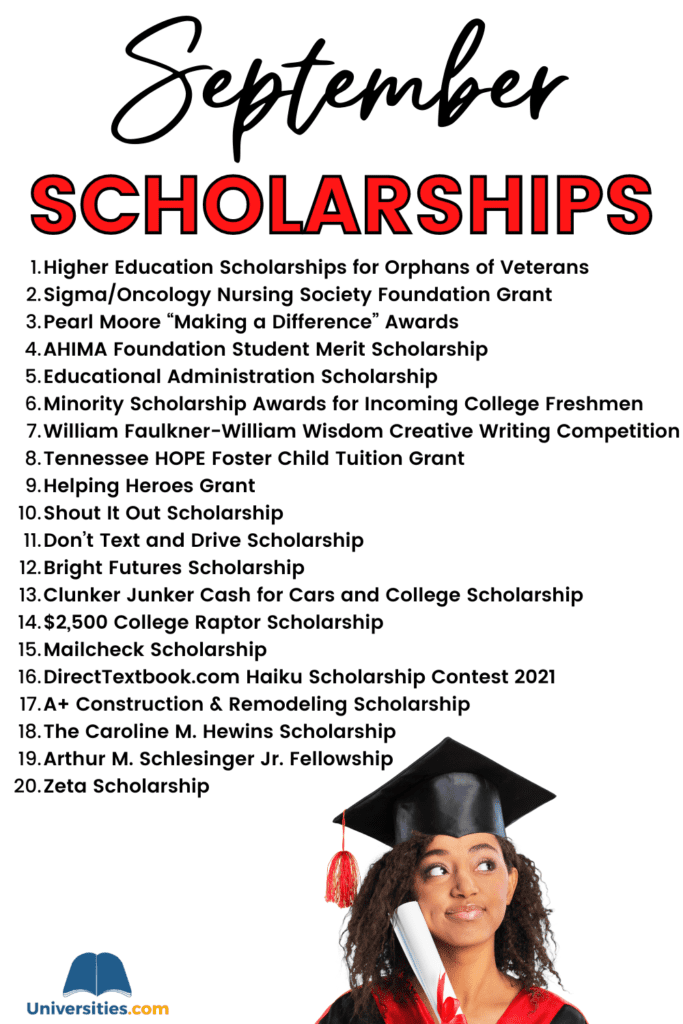 Summer break is coming to an end, and the fall semester is knocking at the door. If you're a college student looking to secure a bit of extra financial aid, we suggest checking out private scholarships. Offered by an endless array of organizations around the nation, these scholarships can help pay for tuition, books, and other fees. All you have to do is qualify and apply! But application deadlines are coming up in September, so don't wait. Now is the time to get cracking so you can receive funding before school starts up again!
Tips When Applying To These Scholarships
As you review our list of September scholarships, the first thing you should do is screen for the qualifications, either in our description or on the sponsor's website. Skip straight to the eligibility section and read to make sure you can qualify for the scholarship in question.
If you are eligible and want to give it a go, then review the rest of the scholarship description very carefully. Pay attention to the sponsor's reason for giving out awards. If there are past winners listed, find out what you can learn about their application. Then fill yours out as thoughtfully as possible, making sure to demonstrate how the scholarship will not only help you but empower you to make a difference in the world after you graduate.
Last but not least, you have to stay on top of deadlines. Most of these scholarships receive numerous applications, so there is no flexibility when it comes to making the cutoff. If you're going to apply to multiple scholarships, keep track of the names and dates on a notebook, phone app, or Excel spreadsheet! Staying organized will improve your odds of success!
20 Scholarships Due September 2021 You Should Apply For
The New Hampshire Department of Education, Division of Higher Education offers scholarships for Orphans of Veterans in amounts up to $2,500 to help cover the cost of rent, books, and other school supplies. Their site notes that "children of veterans that lost their lives in wars and are also residents of the state can obtain free tuition to the University System of New Hampshire colleges and universities and the Community College System of New Hampshire."
In partnership with the Oncology Nursing Foundation, Sigma grants up to $25,000 to "stimulate clinically related oncology nursing research." Applicants must be registered nurses holding a PhD or DNSc and working in an area related to cancer patient care, education, or research. Preference goes to Sigma members, in the event of a tie.
The Oncology Nursing Foundation's Pearl Moore "Making a Difference" Award is given out to ONS frontline nurses, teams, and leaders who went the extra mile to help cancer patients and their families. Awards are for $500 and are given out at the Annual Congress conference gathering, to which the winners receive travel reimbursement.
The American Health Information Management Association Foundation sponsors a scholarship program featuring several awards for current members enrolled in at least six credit hours of courses. Awards are given to students working towards their associate ($1,000), bachelor's ($1,500), master's ($2,000), or doctoral degree ($2,500). Applicants should have a minimum cumulative GPA of 3.5.
The American Association of School Administrators' Educational Administration Scholarships has been around since 1949, helping grad students who want to become school superintendents. Applicants are recommended by their School of Education chair. The entry forms are available on the organization's website. Past award amounts have been for $2,500.
The American Institute of Chemical Engineers (AIChE) offers a minority scholarship award funded by the Henry T. & Melinda C. Brown Endowment for the Education of Underrepresented Minority Chemical Engineers. This annual award of $1,000 is given to minority groups of undergraduate students who are under-represented in the field.
The popular William Faulkner – William Wisdom Creative Writing Competition attracts up to 3,000 writers each year. Awards ranging from $1,000 for short stories to $7,500 for novels. Here are the categories:
Novel
Narrative
Non-Fiction
Novella
Short Story
Novel-in-Progress
Essay
Poetry Collection
Single Poem
Short Story by a High School Student
Tennessee Student Assistance Corporation receives funding from the state lottery to offer the Foster Child Tuition Grant. This award is given to students who spent at least a year in Child Services custody after age 14. Students in public colleges are eligible for the grant, which will not exceed the average state tuition/fees.
Also funded from Tennessee's state lottery proceeds, the Helping Heroes award supports veterans and former or current members of the Tennessee National Guard or Reserve. Students taking between 6 – 11 credit hours of courses are eligible for $500 awards; those enrolled in 12 or more may receive up to $1,000 per semester.
Unigo is an online service matching students with colleges and scholarships. Its Shout It Out scholarship offers $1,500 to US resident students age 14 and up. To apply, students submit a short essay response to the question: "If you could say one thing to the entire world at once, what would it be and why?"
Want to demonstrate Digital Responsibility and get free money? The Don't Text and Drive Scholarship offers $1,000 awards to US citizen students in high school or college. Applicants will first submit a 140-character message about texting while driving. Finalists will be asked to send in an essay between 500 – 1,000 words.
Established by the Silicon Valley Community Foundation, the Bright Futures Scholarship pays up to $10,000 to students with solid educational records plus financial need. There are numerous eligibility requirements for applicants to meet, including being a student of color and having at least a 2.0 cumulative GPA. Preference is given to those living in the California Bay Area.
Besides offering cash for cars, Clunker Junker gives out college scholarships of $1,000 to girls interested in automotive technology careers. Female students studying automotive technology at an accredited institution can apply by emailing in a 500-word essay explaining the candidate's interest in automotive tech, their career goals, and why they're the best candidate.
On a mission to help students with their decision processes, College Raptor awards scholarships of up to $2,500 to US residents aged 16 and up. Applicants must be enrolled at an accredited college or university. As noted, College Raptor is "looking for eligible Applicants who follow directions and submit Applications that are well-written and clearly and creatively address [the topic listed on the website]."
This essay-based scholarship is open to students at any accredited college and awards $1,500 to the winner. Applicants send their 1500-2000 word essay about how email verification can change the world. Note, this scholarship opportunity may be outdated, so please confirm with Mailcheck to ensure they are still offering it!
The ultimate scholarship for haiku poets! Simply send in your haiku on the essence of the word "Cultivate" and you might win a $500 scholarship from Direct Textbook, a company that helps parents and students find the best prices for expensive college textbooks. Applicants should be high school graduates with a 2.5 GPA or better.
California-based A+ Construction & Remodeling offers $1,000 scholarship awards to students who are interested in construction careers. Applicants should be full-time college students with a 3.0 GPA. To apply, simply send in a 2,000-word essay related to construction technology or how home remodeling helps families.
The Hartford Public Library in Connecticut offers a $4,000 annual scholarship through the Caroline M. Hewins Scholarship Fund. This award goes to a deserving applicant preferably pursuing a career in public library service, and who is attending or has applied to a college accredited by the American Library Association.
The John F. Kennedy Library Foundation sponsors the Arthur Schlesinger, Jr. Fellowship to offer up to $5,000 to students researching foreign policy of the Kennedy administration or related subject matter. Applicants should include a brief proposal listing details of their project, two letters of recommendation, a writing sample, resume/CV, and budget.
Phi Sigma Kappa International offers several annual scholarships, including the George H. Duarte Zeta Scholarship, given through the Zeta Chapter Alumni Association. This scholarship is for direct descendants of Zeta Chapter alumni in good standing. Applicants should be enrolled or admitted into an accredited college. Amounts vary and funds are issued directly to the award winners' schools.
Additional Scholarship Opportunities This Month
Our brand new college scholarship tool can help you browse over 5,000 different scholarships, grants, fellowships, and awards, with the ability to filter through to find the ones that best meets your individual college scholarship needs. Go check it out!
Data Source: Peterson's Databases copyright 2021 Peterson's LLC All rights reserved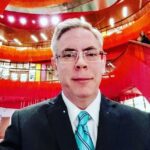 Matt is a retired Air Force veteran and former courtesy faculty at Oregon State University's AFROTC department.
As a freelance copywriter and content creator, he's written for over 250+ companies around the world. Matt specializes in career and higher education topics, with the aim of helping students find the best college programs for their career goals.